Grace Office Supplies
Blyth CEC
Ridley Street
Blyth
Northumberland
NE24 3AG
David Bolam, Managing Director
Tel: 01670 542846
Fax: 01670 542893
Website: www.graceofficesupplies.co.uk
Email: info@graceofficesupplies.co.uk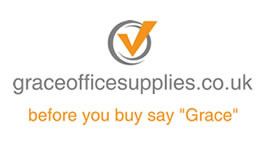 Grace Office Supplies offers printer cartridges, office products, office furniture, stationery & office machines.
Grace Office Supplies have been trading since 2005, operating from our premises in Blyth, Northumberland on the quayside. We can offer a fast, free & friendly local service and provide a next day delivery service.
To see our full range of products, take a look through the online store. If you need assistance then you can either call David Bolam or Jayne O'Neill in customer services.