Widescope Web Design
Blyth CEC
Ridley Street
Blyth
Northumberland
NE24 3AG
Tel: 01670 542854
Fax: 01670 542890
Email: helpdesk@widescope.net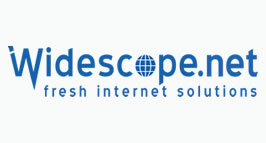 Widescope Web Design specialises in web design, web hosting and search engine optimisation.
Based in Blyth, Northumberland, Widescope Web design has over 2000 national customers.
Past and present clients include:
Newcastle, Cambridge, Manchester and London metropolitan universities, NPQH Leadership Centres (South East, Sout West, South Central & Midlands) Edeus, Key Retirement Solutions, Charterhouse, Complete Overseas Mortgages AVM support, Tyneside Leukaemia Reasearch, The Point, Envirohomes Ltd, First Class Supply and Training and Genitrix.
Our services include:
Web design / HTML scripting
Shockwave / flash authoring
Scanning / graphic creation
Logo creation and brand development
Onsite photography
Java, CGI, PHP, ASP programming
MySQL, ACCESS and SQL development
Secure credit card facilities
Shopping carts and advanced ecommerce
Hosting (servers owned by Widescope, hosted across several networks)
Storage (websites, FTP, desktop and network)
Website maintenance
PC maintenance and networking
Hardware and software procurement
ADSL, broadband and internet connectivity
Full range of email facilities (simple accounts to secure exchange hosting)
CD / DVD creation
Full web resale facility (dual and unbranded solutions for web designers)
Vinyl, wood and engraved signs
Vehicle signwriting
Bespoke stamp creation
Domain management, DNS and backup solutions