Novo 55
Blyth CEC
Ridley Street
Blyth
Northumberland
NE24 3AG
Tel: 01670 542850
Fax: 01670 542863
Website: www.novo55.com
Email: enquiries@novo55.com
Directors: Andy Morris and Charles Thompson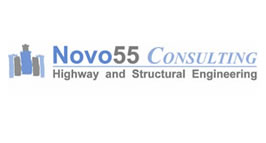 Novo 55 Consulting offers structural engineering design and advice, (foundations, beams, trusses, retaining walls etc) structural surveys, planning advice (help with planning applications, planning appeals, objections to planning applications – related to access and highway issues), highway design (traffic schemes, cycle schemes, road safety audits, transport assessment, travel plans etc) and expert witness (advice on claims such as trips on the highway, road accidents and responsibility, evaluation of crash damage etc).
Our directors each have over 30 years experience of civil and municipal engineering experience in the public and private sectors.
Our skill set enables us to provide clients with a full range of highway and structural engineering services. We can support clients by providing advice from an initial proposal, development of brief, optioneering, preliminary and detailed design and CDM services. We can also carry out road safety audits of proposals designed by others.
We have been successful in advising clients in relation to planning applications and planning appeals.
Our extensive experience enables us to provide expert advice to solicitors, claimants or local authorities in respect of claims involving personal injury, highway equipment damage or collision investigation.